Final Fantasy: Legend of Balance is a completed game created by RydiaMist and WotgAshiee.
Characters
Edit
Optional characters
Edit
Azran. Master craftsman and high-flying Dragoon, now finally able to go on a manly adventure with his friends...
Divinus. Hunter and Time Mage extraordinaire, she goes wherever her whims take her...
Flame. Seemingly oblivious to the world, but possessing a unique ability to mimic the acts of others, could there be something more to this woman...? Or do we really want to know?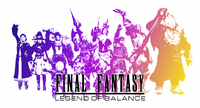 External links
Edit
Ad blocker interference detected!
Wikia is a free-to-use site that makes money from advertising. We have a modified experience for viewers using ad blockers

Wikia is not accessible if you've made further modifications. Remove the custom ad blocker rule(s) and the page will load as expected.